Annexx Bordeaux Lac is ideally located near IKEA and Auchan Lac. Close to the heart of the town center, Annexx is the perfect choice when it comes to commercial, residential and student storage space.
Inside this state-of-the-art facilities you'll be find multiple sized units to store your greatest or even smallest belongings. It's a clean, secure environment for your valuable items.

Of course, it's not only our prices that set us apart; it is the quality of our storage rooms, our cutting-edge Closed-circuit television along with the authentic dedication for you to providing the best service in our center.

You will have free unlimited access, Seven days a week and only you will have the key to your unit. We've flexible lease terms, store here from just one day.


This facility is ideally located for easy access from: Bordeaux, Mérignac, Saint-Médard-en-Jalles, La Teste-de-Buch, Le Bouscat, Lormont, or Bruges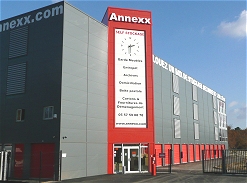 An array of of cardboard boxes, packing materials and bubble wrap are available in our own store.