Annexx Nantes, five minutes away from city centre, is the perfect choice for personal, business or student who need more space for storage.
In this new facility you can rent a wide range of storage units adapted to your needs. It's a well lighted, clean, secure building for your valuables.

Of course, it's not just our prices that is our strong point; it's also the quality of our storage, our cutting-edge Closed-circuit television security as well as our genuine determination for supplying the greatest service. Only you have the key of your storage unit, and you have free limitless access, 7 days a week. We provide storage services for long or short term storage, or seasonal storage needs.

This facility provides self storage to household and business customers, students and members of the armed forces and we are ideally located for easy access from: Nantes, Sainte Luce sur Loire, Saint Sébastiensur Loire, or Carquefou.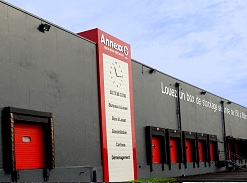 A wide range of cardboard boxes, packing materials and bubble wrap are available in our shop.