Annexx self-storage facility in St Etienne is actually located next to the exit 14 of highway A72.
At this state-of-the-art facility in St Etienne, you can lease storage rooms. Several sizes are available, to store your largest or smallest items.

Obviously, it's not only our great prices which set us apart; it is the quality of our storage area, our cutting-edge CCTV as well as our genuine dedication to providing the best service to our customers.

Only you will have the key of your storage room. The access is totally free and unlimited, 24/7.

We have flexible lease terms, rent only for the time you need it.
This store provides self storage to household and business customers, students and members of the armed forces and is ideally located for easy access from: Saint Etienne, Firminy, Saint-Chamond Saint-Priest-en-Jarez.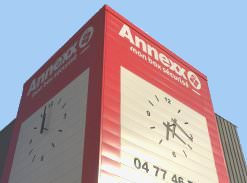 A large choice of small boxes, bubble wrap, wardrobe boxes, moving kits and dish packs are available here.